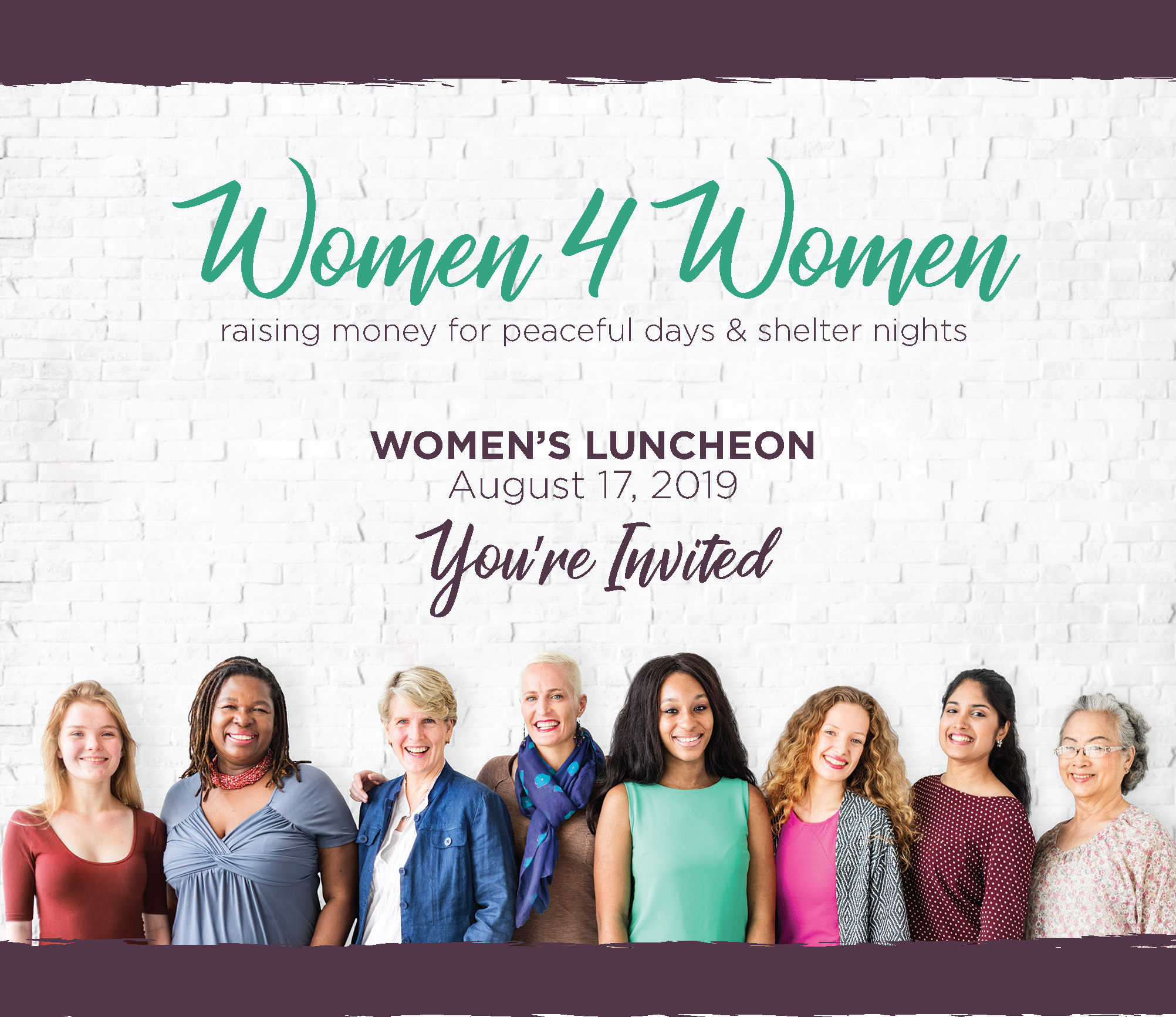 Want to attend?
We would love for you to join us. There is no ticket cost, however, everyone will be asked to make a financial gift.
We are officially at capacity!
But we have started a Waiting List.
To be added to the Waiting List:
Last year, we were able to accommodate many of the women on the Waiting List.
Thank you!
Last August, 500 of us came together for our 7th Annual Women 4 Women Luncheon. We shared the struggles and triumphs of women, met with new and old friends, and came together to bring other women hope. Together, we raised an incredible $77,777.18 in one afternoon! And, we are all grateful for the additional match from Shoe Show, Inc.!
Click here for pictures from past events and stay tuned for pictures of this year!
---
2019 Honorary Co-Chairs:
Carolyn Tucker
Jacqueline Tucker
Lisa Tucker
2019 Committee:

Coretta Grant, Chair
Novant Health
Christine Barrier
NC State, Cooperative Extension Service
Alicia Broadway
City of Concord
Hannah Templeton Cook
Hair Dresser
Gail Holding
Community Volunteer
Abigail Huber
Concord Middle School
Christel Josey
Community Volunteer
Heather Starnes
Cabarrus County Sheriff's Office
Judy Stoy
Richard Petty Driving Experience, Retired
Deb Triece
Retired Educator
---
2019 Sponsors
Sterling

Stunning


Robin and Alan Davis
Dona and Jerry Hagler
Sharon and Ed Heavner
Rosemary and Mike Sullivan
Amazing


Mike and Loretta Coltrane
Leslie and Christopher Flynn
Barbara and Robin Hayes
Gail and David Holding
Deanna and Norman Shue
Dazzling

Diana and Howard Bentley
F & M Bank
Rosemary and James Loftus
Laurie and Jim Miller
Judy and John Stoy
31 Construction
Jill and Jim Wall
Marvelous


Beaver Dam Nursery
Peggy and Carl Comer
Complete Design & Packaging
Jeanne and Thomas Dixon
Coretta and Bernard Grant
Kay, Sonny and Katie Helms
Nancy and Joe Hunter
Reshell Johnson
Tina and Jon Tyler
Fabulous


Cathy Altmann
Bryan Cooks Tree Service
Lisa Burke
Karen and Vernon Byrd
Carlos Moore Architect, PA
Concord Printing Company
Doughgirls Catering
Michele Durkin
Tamara and Trip Eller
Foster Animal Hospital
D Evans and Jackie Freeze
Mary Margaret Flynn
Eileen & Bill Goolsby
Karen and David Harper
Betty & Diane Honeycutt, Allen Tate Realtors
Its All About You Salon
Sheree and Robert Kear
Bess and Kent Kercher
Vergie and Bill Krimminger
Laurie McLaughlin
Karen and Robert Mitchell
Margaret and Brian Moore
Helen Morrison
Annette and Scott Moss
Potter & Co., CPAs
Mary Anne and Charles Ritchie
Delinda and Rick Rodgers
Salon Autumn
Deb and Randy Triece
Sylvia Wagoner
Martha and Richard Walters
Ginger and Jonathan Zsambeky