CVAN (Cabarrus Victims Assistance Network) provides safety, shelter and support for battered women and their children in Cabarrus County, NC. Since 1982 - building a world where every home is a safe home.
Volunteer Don Starnes making
our yards look amazing!

Click here to learn more about
Fall yardwork and other volunteering.



Thrift Store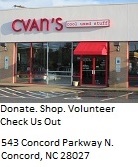 PO Box 1749, Concord, NC 28026-1749 ~ 704.788.1108
© 2010-2016, CVAN - Cabarrus Victims Assistance Network