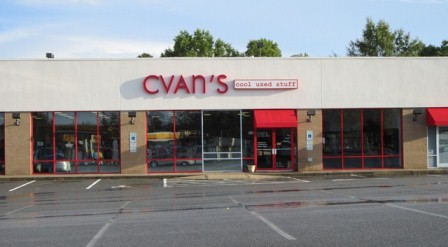 CVAN's Cool Used Stuff
Location:
543 Concord Parkway N.
Concord, NC 28027
Phone: 704.721.9020
Hours:
Tues-Fri 10am - 6pm (change from Mon – Fri)
Sat 10am - 5pm
COVID-19 UPDATE
Re-opened for Donors and Shoppers
Change in days open:
Not currently open on Monday
We are open:
Tues – Friday 10am to 6pm
Sat – 10am – 5pm
Change in donations accepted:
Not able to accept: Furniture; toys; medical supplies; large baby items
such as changing table, stroller; or hangers. See below list of items that we don't take under regular circumstances.
Guidelines to help keep yourself and others safe:

Number of customers will be limited, following available guidelines
Please wear a mask
Please stay 6ft apart
Our public restroom is closed
Dressing rooms are closed
Please keep your children with you at all times
At our store, you will find a great combination of fabulous bargains in an inviting atmosphere !
In case you have not yet visited us - we sell:
All clothes, household / housewares, accessories, books, DVD's CD's and linens.
All our profits go directly to helping battered women and their children find safety, shelter and support through our many services.
Donations: The merchandise comes directly from you, the community! You can drop off your donations at the store during store hours.
Clean out your attic, basement & closets!
CVAN needs:
All Clothes - men, women & children
Household/Housewares - such as kitchen, seasonal, decorations, small appliances, knick-knacks
Accessories - such as shoes, jewelry, purses, belts
Books, DVD's, CD's
Linens
Can't take - TV's, large appliances, mattresses, cribs, car seats, computers, building materials & magazines. See additional items listed due to COVID. If you aren't sure about a donation - give us a call. Thanks!
Click here for more information on donations.
Click here to check out the 2011 renovations at the store!